Maximize your productivity in your Ram Promaster with a bott Smartvan shelving system. Our sophisticated system of brackets and frames is designed to contour to the van walls of the compact ProMaster City as well as the full size Promaster, whether it's a Standard Roof or High Roof, and all 3 of the wheelbase lengths: 118", 136", and 159". The system of frames and brackets make installation easy and completely drill-free. No drilling is required. This means no unnecessary damage is made to the van walls, the shelving is completely EV compatible without worrying about drilling into the battery, and the van's resale value is maintained.
Van Accessories
A wide array of racking accessories is available from shelves and drawers to bins and cable reel holders to keep any tool or material organized. The most unique accessory is the Systainer3, which seamlessly integrates into the system with 2 lightweight guide rails that install in just a few minutes. These cases are the pinnacle of mobile organization and what really turns the bott Smartvan system into an entire mobile ecosystem. sysatiner® stack and connect to each other, whether they're the anthracite Systainer3 that come in some shelving modules or systainers® commonly used to package brands like Festool, Shaper, and Kein.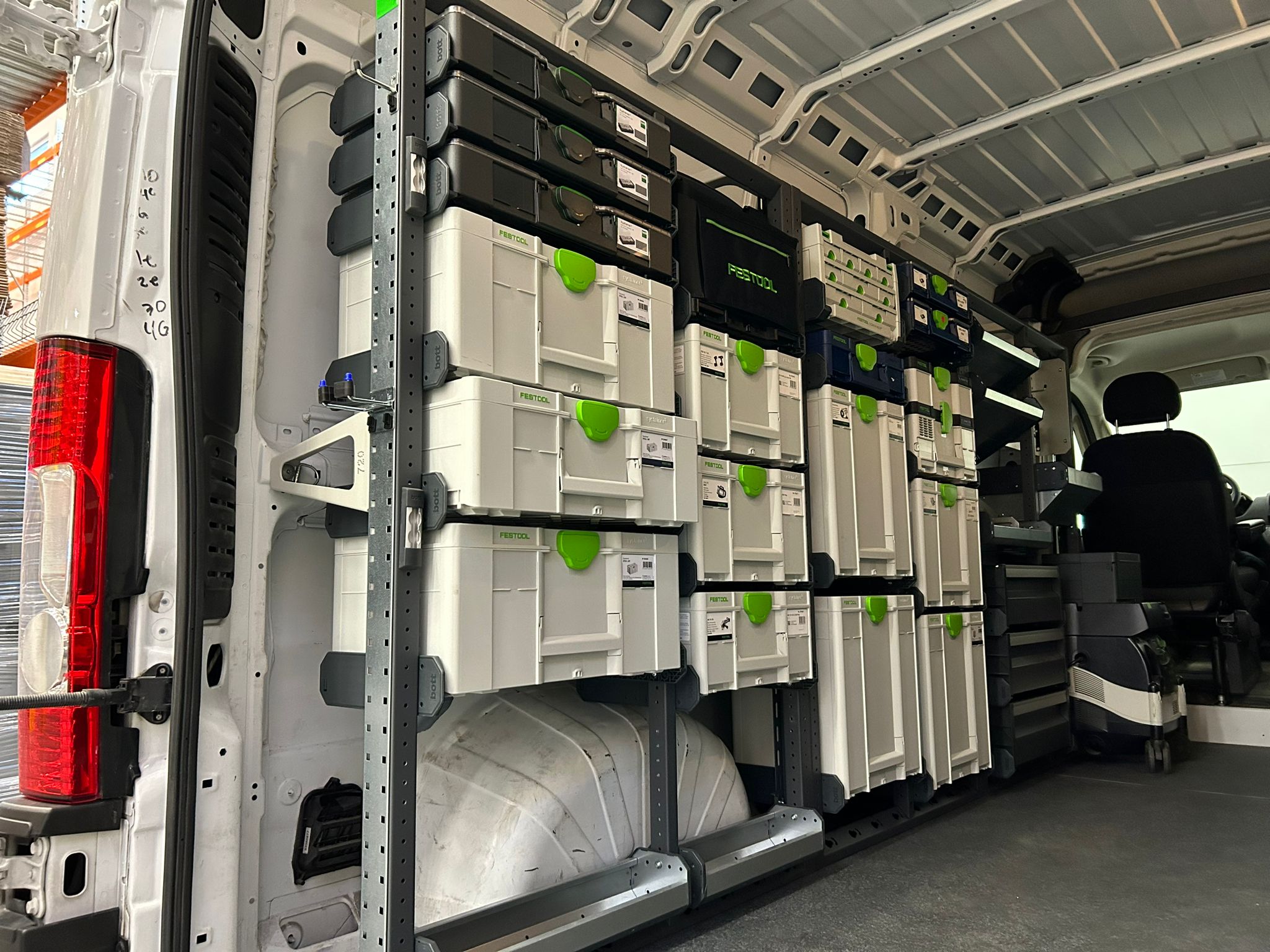 Why choose bott Smartvan?
No need to worry about replacing lost or damaged goods as everything is securely stored and organized. The lightweight steel is also great for fuel and EV battery efficiency.
No drilling required. Designed for seamless compatibility with your exact model.
Innovative storage design specifically tailored to make sure every inch of space is properly utilized without sacrificing precious space in the center aisle.
Wide range of accessories allows for all tools to be easily accessible, secure, and visible with all products at your fingertips.
This modular van shelving system can be easily rearranged, and accessories readjusted at any time to properly suit your business and work flow.
Lightweight yet sturdy enough to properly secure your items. Crash tested to European standard ECE-R17.